I am always looking for ways to spruce up my home without spending a lot of money. Lets face it, we all love a great DIY project that is also friendly to the wallet.  There is just something about looking at a project and knowing that you did it that makes me feel good. Check out these easy and affordable upgrades that you can do in your own home.
1.) Plant baskets
Adding baskets to planters in your home adds flair and makes it look expensive. I found baskets marked down to $5.00 each at Target and I have started to add these to the plants around my house. I love this look!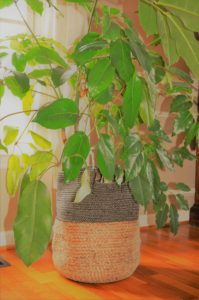 2.) Paint hardware and vents
Rusteloum "oil rubbed bronze" is one of the best products for sprucing up a home. One $8.00 can of spray paint can refresh your hardware (door knobs, cabinet hardware, sink faucets) and make them seem new. I have spray painted almost all the hardware in my home and even went as far to spray paint my brass shower doors! Literally a brand new look.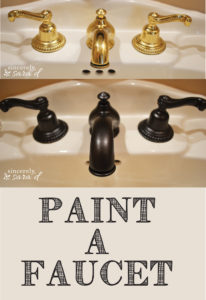 See the directions here.
3.) Add canvases
Do you need pops of color or artwork in your home, but do not want to spend a ton of money? Create your own art using a canvas and hang.  Bonus: you do not even have to frame them!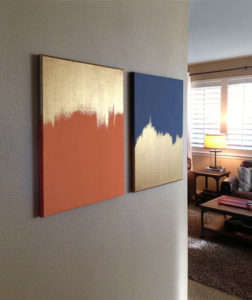 See the directions here.
4.) Pillow case covers
My taste in items change frequently and lately I have not been feeling my couch pillows.  I was tempted to throw them out and purchase new ones until  a thought occurred to me.  It would be so much cheaper to just buy pillow covers and give them an update.  If you like to sew you can also make your own, but that is not up my alley.
5.) Add fresh flowers
I love to have fresh flowers in my home. They add a pop of color and make your home seem more lively. When Spring and Summer are here, I pick flowers from my garden to bring inside. My husband and I also like to stop by our local farmers market to choose some funky and colorful flowers to bring home.
6.) Frame bathroom mirrors
Do you still have the builder grade mirror in your bathroom? Make yours look store bought by framing it!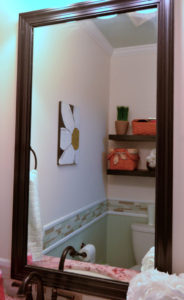 See the directions here.
7.) Paint your ceiling fan
You can update your outdated ceiling fans with some paint. This project is going on my to-do list!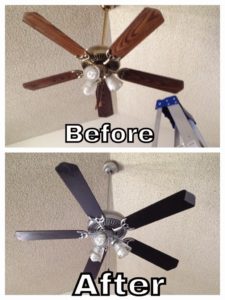 See the directions here.
8.) Change light fixtures
Simply changing light fixtures in your home can make a huge impact.  You can find many inexpensive fixtures at Home Depot and Lowes home improvement stores.
9.) Hang your curtains high and wide
Hanging your curtain closer to the ceiling and wider than the window gives of the appearance of a more grand window. It also makes your ceilings seem taller!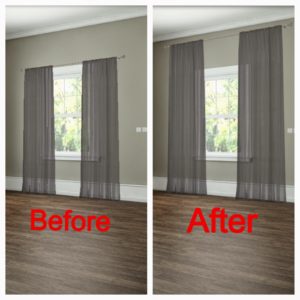 See the directions here.
10.) Add DIY wainscoting
Make any area of your home have that extra pop by adding wainscoting for a fraction of the price.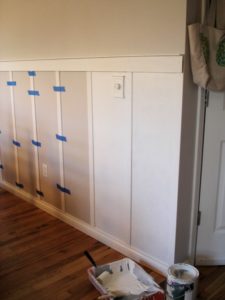 See the directions here.
11.) Paint your fireplace
Do you still have a brass fireplace?  You can change the color with heat resistant black  paint.  This was one of the first projects I completed when we moved into our home and it gave the living room a modern appearance.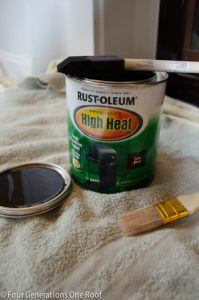 See the directions here.
12.) Add plastic tile to your backsplash
Do you have ugly backsplash, but do not want to spend a fortune to replace it?  You can easily cover up your backsplash with plastic tiles that can be removed.  This is also a great option for any renters that would like to individualize their space.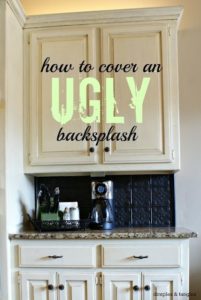 See the directions here.
13.) Hide wires with a curtain rod
I hate wires. They are everywhere and such an eyesore (at least to me). This is such a simple way to hide those pesky eyesores.
See the directions here.
14.) Paint your bathroom vanity
I have mentioned painting your bathroom vanity previously when I shared our bathroom DIY, but this one adds an update to your counter tops as well.  Score!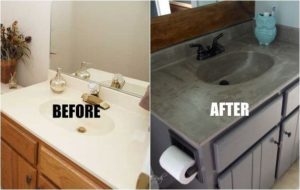 See the directions here.
15.) Add beadboard to your cabinets
I LOVE this idea!  Cabinets can be expensive and this is a great way to give your kitchen that farmhouse feel while not spending a lot of money.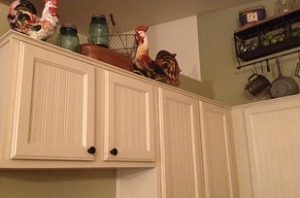 See the directions here.
16.) Add two shower curtains
Add two shower curtains to give your bathroom a more elegant feel.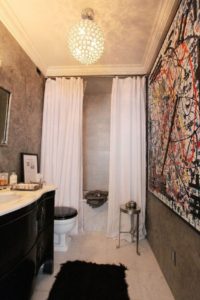 17.) Paint your vinyl or linoleum floors
Do you want to change your floors, but don't have the budget for wood or tile?  This is budget friendly way to completely change the look of a room.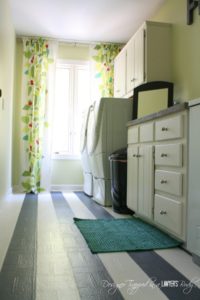 See the directions here.
18.) Add frames to your light switches
Such an inexpensive way to add a little flare to your light switch covers.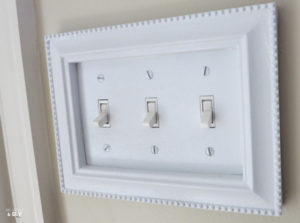 See the directions here.
19.) Paint windows on your garage
This is a great way to give your garage that "carriage house" feel, without spending a ton of money.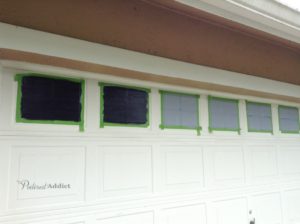 See the directions here.
20.) Paint your appliances stainless steel
Do you have working appliances that just need a little update? Try painting your current appliances stainless steel.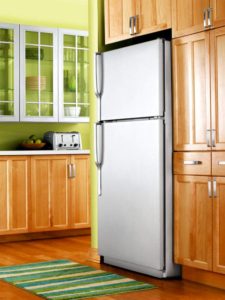 See the directions here.
Save
Save
Save
Save
Save
Save
Save
Save
Save