1.) Stock up price
Before you try and get the best prices on meat, you must know your stock up price for each type of meat. This can vary for each person depending on what meat you typically use and buy more often.
For my family, we eat chicken for most meals. Chicken is usually a cheaper meat option; therefore, I am able to stock up on different cuts of chicken for fairly cheap. For example, my stock up price for chicken leg quarters (leg and thigh) is .39 cents per pound.  That equals out to about $2.00 per every 7 pounds of chicken!
If your family tends to eat more red meat then you may pay a little more, but you can still find low stock up prices! A good rule of thumb is to look for the normal price per pound and to aim to pay half that price.  For example, if you currently pay $3.99 per pound of ground chuck, aim to stock up when the price is $1.99 per pound.
2.) Buy discounted
Many stores will discount their meat when it is getting close to the "use by" date. Stores will generally put a sticker on the discounted meat.  Look for red, yellow and brightly colored stickers when searching. I have been able to find meat prices marked as low as 80 percent off.  Sometimes I get lucky enough to get meat for free.
Target always has excellent mark downs on their meat selection. Target will have red stickers with a certain dollar amount of the price.  For instance, $3.00 off, instead of putting a discount price.  Sometimes you can find meat that is already on sale, plus the discounted dollar amount, plus Targets free 5% off! I know Target is not a common place to think of when buying meat, but the next time you are browsing around the store stopover in the meat section!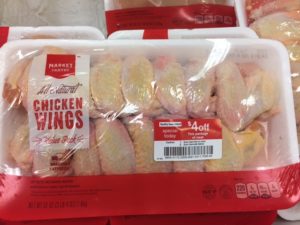 3.) Shop meat sales
Meat sales are more common at smaller grocery stores such as Harris Teeter, Lowes Foods and Food Lion than larger stores like Walmart and Target. Common meat sales are buy one get one free (half price) or lowering the price per pound for that sales week. Pot roasts, stew meat and cubed steaks go on sale for buy one get one free every couple of weeks at my local grocery stores.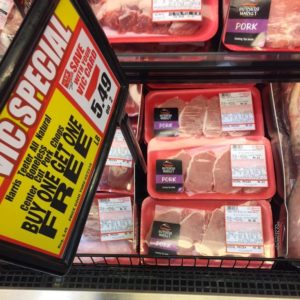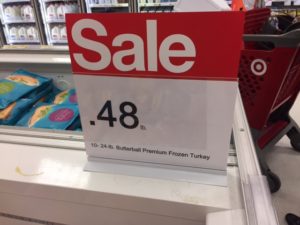 4.) Use leftovers
Use leftover meat from the night before to create a new meal the next day.  Whenever we have leftover meat, I alter my dinner menu to incorporate the leftovers so that they don't go to waste.  This is also a great way to save money as you are using the same meat for multiple meals.
For example, when we have leftover chicken, I will normally make tacos, quesadillas or a casserole that uses chicken. When I am not able to come up with meal ideas with our leftover meat (hello, mom brain!) then I pull up Pinterest or Google and type "leftover _____ recipes" and voila!  Minimal thinking involved…
5.) Buy in bulk
You can save a lot of money by buying larger portions of meat and cutting them yourself.  The other day I purchased a 10 lb. pork shoulder on sale for $1.27 per pound and was able to cut the meat to last 7-8 meals!  That is less than $2.00 per meal.
You can also buy bulk meat from places such as Zaycon and your local butcher.  These will typically have a higher up front cost due to the amount of meat you will purchase (40 pounds and up). A great idea is to team up with a friend or family member to split the upfront cost.
6.) Coupons
Yes, there are coupons for meat! It is a common misconception that coupons are only for snack foods.  You can find coupons for produce, diary and MEAT!
These can be found in the Sunday paper, online (check out the page for printable coupons) and through cashback apps (Ibotta, SavingStar & Checkout 51).
7.) Eat less meat
Every meal does not have to include meat.  I repeat, every meal does not have to include meat. There are many easy to follow and delicious recipes that do not include meat. If you and you are willing, try incorporating "meatless Mondays" (or any other day of the week). I am not saying that every meal needs to be "vegetarian", but try to have one meal be meatless.  If you are currently spending $6.00-7.00 per meal on meat, then that saves you $24-$28 per month on meat. Simply by cutting out meat from one meal per week!
If you are like my husband and refuse to eat a meal without meat, then try to cut back on the portion used in the meal. You can also supplement some meat with beans, lentils and rice to make the meal more filling.
8.) Check the fresh meat
If your store has a fresh meat section (where the meat is cut) check to see the prices of the cuts per pound for their un-packaged meats. At Harris Teeter, the price per pound for chicken breasts is $1.99/lb.  If you look at the price for the SAME chicken breasts that is packaged it is $3-$4 per pound! Often meat and seafood in the fresh meat section will also be on a weekly sale or a manager special. A manager special simply means that the product is being reduced. Often to help with sales.
Take advantage couponers!
Save
Save