The first step in learning to save on your grocery purchases is to sit down and set a weekly grocery budget. This budget will be different for each person/family. I purchase groceries for a family of five on a weekly basis, so my budget may be higher than a family of three. The steps below, I based on my personal shopping habits and how I set my family's grocery budget. I encourage you to make this your own and use the steps below as a guide.
1.) Make a list of essential grocery items (weekly).
Essential grocery items for me are vegetables, fruits, bread, milk, eggs and some meats. I want you to make this list as detailed as possible.  For instance,
-6 bananas per week (individual)
-1 bag of apples
-1 loaf of bread
-1 gallon of milk
-2 dozen eggs
-Rice
-Peanut butter
-1 box of cereal
And so on…
2.) Put a price to those essential items.
I want you to estimate the price per item that you are currently spending.  Of course, as you continue to coupon and shop sales, the price that you pay for items will decrease over time.
-6 bananas or 1 package ($2.00)
-1 bag of apples ($4.00)
-1 loaf of bread ($2.00)
-1 gallon of milk ($3.00)
-2 dozen eggs ($4.00)
-Rice ($2.00)
-Peanut butter ($2.00)
–1 box of cereal ($2.00)
As you begin to coupon and stockpile items you will be able to build a surplus of "essential" items (step 5) at rock bottom prices and not have to purchase on a weekly budget. Therefore, saving you money on future grocery purchases and lowering your grocery budget.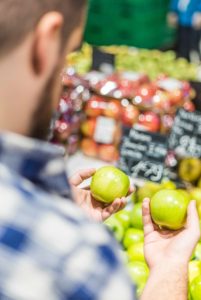 3.) Make a list of "extras".
"Extra" grocery items are the ones that are not needed, but everyone should splurge a little so, let us be realistic with this budget. For instance,
-1 bag of chips
-1 box of crackers
-That box of cookies that your toddler MUST have.
Now do the same as in Step 2 and put an estimated price beside each "extra" item and total.
4.) Total
On average, my essential items total around $30 per week and my "extra" items are around $10.  This totals $40 per week. This should guide you into what your weekly and monthly budgets will look like.  Now a few more steps…
5.)Add a small stock pile budget.
Remember before adding a stock pile budget, be sure to total the amount for step 4 (essential & extras). Each family budget limits will be different. Once you see that your essential and extra items will cost $40 per month then you know, based on your personal limits, how much you can contribute to stockpiling each week.
I personally set aside $10 per week to purchase extra items that are at stock up price. This budget may vary per person, but I do encourage you to try and at least budget $5 per week to begin to see a decrease in your budget in the future.
6.)Final total.
Add step 4 (total) and step 5 (stock pile budget).  My total per week is $50 per week.
7.)Stick to it.
This step can be the most difficult while starting to shop on a budget. If you notice that after a few grocery trips that your essential items cost more than initially estimated, then adjust your budget accordingly. I would try not to add much more to your "extra" or "stockpile" as these are items that are not needed. On the flip side, if you notice you have money left over each week from your budget, then maybe you need to decrease your budget. Remember this is a process.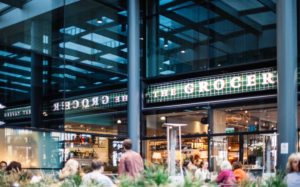 The two things that help me to stick to my budget are:
The key to success is planning!
I set aside cash each month for groceries ($200 monthly total) and bring my allotted amount each week.                        This really helps me stay accountable and think about each item that I add to my cart.
I encourage you to try this approach for 30 days, which is the amount of time it takes to develop a habit.
Save