I am a firm believer in not paying full price for children's clothes.  My children grow out of sizes every other week and if they are not growing out of clothes they are getting food, dirt, glue and any other liquid imaginable on their clothes. Why would I want to pay full price for something that will probably not last a year?!? Here are ways that I personally save money when purchasing clothing items for my children.
Clearance:
Target. I know I say this all the time, but this is literally THE best store for all deals! Sure, you can go into the baby/toddler section in Target and spend $30.00 on one outfit, but if you know how to shop you can spend $4.00 on the same outfit at the right time! Target is known to mark clothes down to 70% and sometimes as low at 90%.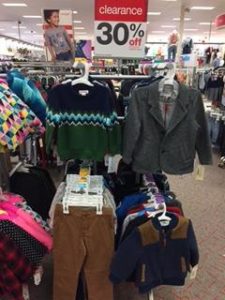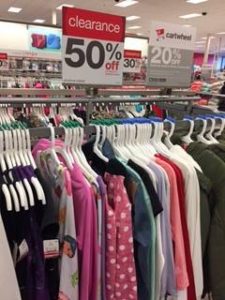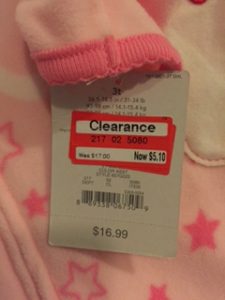 I always make a habit of checking the children/baby clothing clearance section each time I am in Target, which is about 4 times a week…but who is counting? Baby and toddler clothing generally will get marked down on Tuesdays and sometimes will get marked down with seasonal markdowns if the clothing is related to the season. You will not always find clothing marked down this low, but most of the time you can find clothing at least marked to 30%-50% off the original price.
Walmart. I am not a frequent Walmart shopper, but they do have some good mark downs occasionally when it comes to children's clothing. If you are a frequent Walmart shopper I would suggest at least browsing the children's clothing section for mark downs. Search for the yellow balloons or signs labeled "clearance".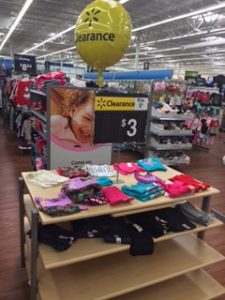 Thrift/Consignment stores:
This one is a no brainer, but I know many people are a little weary to go into thrift and consignment stores if they have never been in one.  You can find children's clothes that cost upwards of $40-$50 brand new for $1-$3 gently used!
Yes, I will agree these stores can be overwhelming when you first walk in, but once you master how each store works you can be in and out in no time. The most common thrift store that most people are familiar with is Goodwill (which is one of my favorites), but most areas have their own local thrift stores as well.
My rule of thumb when shopping at thrift or consignment stores is to only buy brands that you are familiar with and you know will last. I also only buy clothing that are VERY gently worn. I have found so many brand new children's clothes with the tags still on them at thrift stores.
Many thrift and consignment stores will also have special discounts, clearance and other promotional savings that can help you save even more money. One of the local children's consignment stores in my area will have a clearance event twice a year where they mark down the previous season clothing to make room for the upcoming season. If you wait until the end of the promotion they will mark the clothes down up to 90%. That is 90% off the already reduced pricing! I have gotten jeans, shirts, and jackets for as low as .25 cents! How awesome is that?!?
Yard Sales:
Yes. Yes. I know. Yard sales are not for you, but I will hands down say that this is where you will find the BEST deals on clothes! Generally most people that are selling items at yard sales are just wanting to get rid of their items and make a little money and realistically what they don't sale will probably be donated to a thrift store.
I remember driving by a yard sale later in the day and seeing a box outside labeled "free stuff". This was the same yard sale that I had stopped by earlier in the morning. People selling items often do it to create more space and decrease clutter.
I have found so many high brand clothes for both of my children for around .25 cents- $1.00 per item.
Buying in advance:
Any frugal shopper will tell you that when you find rock bottom prices on items you buy as many as possible until the next sale. The same is to be said for clothing. When I find rock bottom prices on children's clothing I will buy a few sizes up for each kid so when they grow out of their shoes I simply pull the next size out of storage instead of going to the store to pay full price.
(Side Note: I keep storage bins in my attic for each of my children labeled with sizes that I can go "shopping in" when they need clothes instead of heading to the store).
Save
Save
Save
Save