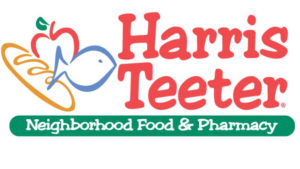 General 
Harris Teeter does not accept coupons that have expired or have gone past their expiration date.
They accept only one manufacturer coupon per item.  Simply put, you cannot use two coupons for 1 single item.
Coupons presented and items purchased must match exactly; size, variety, flavor, etc.
Coupons saved to mobile devices cannot be accepted.
Harris Teeter does not give cash back.  If the coupon is more than the value of the item, then the coupon will be adjusted to the price of the item.
Sales tax will still be due even when using coupons.
They do not accept photo copied coupons of any type.
Coupons that reflect money off of total order must be used after all other discounts and coupons are applied.

For example, if you have a $10 off a $50 purchase, the $50 must be after all other discounts and coupons have been applied.
Doubling
They accept 20 double coupons per day per customer/household with VIC card; all others redeemed at face value. No orders may be separated that would allow the 20 coupon limit or any other coupon limits to be exceeded.
They double manufacturer's coupons up to face value of $0.99.
We double up to three identical items with manufacturer coupon; additional coupons for like item will be honored at face value.
No competitor coupons will be doubled or tripled.
Coupons that state "do not double" will not be doubled or tripled.
Internet Coupons
They do accept original paper internet manufacturer's coupons; however no internet coupons involving any "free" products are accepted.
They accept three Internet coupons per transaction.
Coupons have unique serial numbers printed on them and follow industry-standard format.  Any presented coupon that does not follow standard format will not be accepted, to include coupons that are copied and have the same serial number.
Competitor's Coupons
They do accept local competitors' paper manufacturer coupons for cents/money off of products.
If a coupon is marked as a Manufacturer's Coupon, they will accept it even if it comes from a Catalina coupon machine. Example: If the coupon is from Target, Food Lion etc. and has "Manufacturer's Coupon" printed on the coupon it is acceptable.
They do not accept any internet coupons from other retailers.
The Management Team in each store determines who their competitors are.
They do not accept percent off items or percent off total order coupons.
Rainchecks
Rainchecks never expire and are accepted at any Harris Teeter store.
Rainchecks can be issued for items out of stock during coupon promotions for the sale price of the item only.
Rainchecks can be written for a limit of three or three "deals" unless otherwise stated in the ad.
Rainchecks cannot be combined with current sale price.
Scan Guarantee
Per Harris Teeter's scan guarantee, "If an item scans higher than the shelf tag or sign, you will receive one like item free, excluding alcohol and tobacco."
They will honor five "scan guarantees" per customer; all other pricing inadequacies will result in the difference between the shelf tag and the actual price of the item being refunded. For example, then, if a customer presents 6 cans of tuna, 3 jars of tomato sauce, 2 boxes of cereal, 4 bottles of shampoo and 2 boxes of crackers with shelf tags and receipts saying that all of these items scanned incorrectly, we will give them 1 tuna, 1 tomato sauce, 1 cereal, 1 shampoo and 1 box of crackers for free.  For all the rest of the items, we will refund them the difference in price per item.