Let me start off with saying that I am normally up and early at Harris Teeter for Super Double coupon events. This time I decided that I was going to take it easy and just go when I woke up and not rush. I am currently in the process of  a "eating down the stockpile" phase. This is basically where I focus on all the food items in my stockpile and pantry and try to make meals with things I have on hand versus continuing to add with couponing.  I will go a little more into this in another post at a later time.
There were a lot of FREE items with paired coupons and Super Doubles, but I tried to focus on getting items that I was either running low on or did not have. Since I have a truckload (or close to) of shampoo, deodorant and other products I tried not to focus on getting those items, even if they were free.
With that being said, here is my first haul of Super Doubles.  Many items were already out of stock since I went later during the day, but I was okay with that. Also, the chocolate chips were a NEED for our tradition of Sunday morning pancakes 🙂 . That added close to $4.00 to my total, but my husband and children almost refuse to eat pancakes without chocolate chips.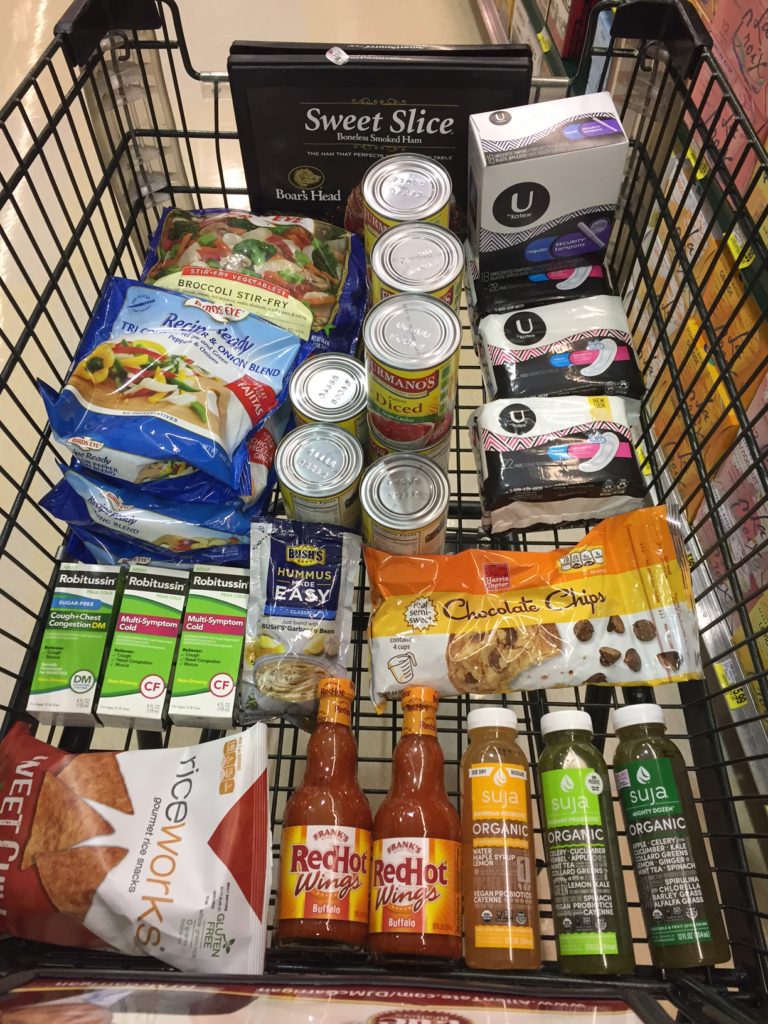 Vegetables: $1/2 coupon= .34 cents each
Buffalo sauce: .75/1= FREE
Riceworks chips: $1/1= FREE
Suja drinks: $1/1 (hang tag found on product)= FREE
Canned tomatoes: $1/3= .33 cents each
Robitussin: $2/1= $1.99 each
Kotex pads/tampons: $2/1= .19 each
Hummus mix: $1/1= FREE
Chocolate chips: $3.97 (not on sale, but needed)
Total spent: $16.XX (79 % savings)
Save