1. Manufacturer Coupons
Targets does accept manufacturer and printable coupons like most major retailers. Target does follow the limitations that are written on each manufacturer coupon.
2. Target Store Coupons
Target offers printable coupons directly from their website.  These can be used with Manufacturer coupons and the Cartwheel App. Target printable coupons can be found at here.  You can only print two coupons per device (computer, phone or tablet).
3. Target Mobile Text Coupons
Advertised– Most weekly Target circulars will have a coupon than you can cut and use in store. If you look at the coupon it will normally advertise that you can save for instance, $5 off a $20 specified brand when you text SAVE to TARGET (827438).
Non-advertised– Most weeks there is also unadvertised mobile coupons which you can find listed on signs throughout the store.
Some mobile coupons will be a dollar amount of a specific product such as $1.00 off any Dove item.  Some coupons are department specific such as save $5 off any $25 personal care purchase.
All mobile coupons have a limit of one per transaction.
4. Cartwheel App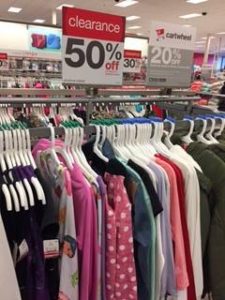 Target has their own savings app available for most smartphones. I love this app so much that I created a separate post (here) about how wonderful it is, but here are the basics.
Cartwheel has both percentages off and manufacture coupons directly from your phone.
Once you load the coupon to your Cartwheel you then have the cashier scan your barcode for your savings to be applied.
Cartwheel percentage coupons can be combined with Target coupons AND manufacturer coupons! That means triple the savings!
Want to learn more about Cartwheel? Check out my Cartwheel post.
5. Gift card promotions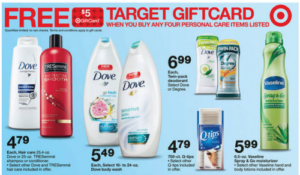 Each week Target will offer a gift card promotion on several products. Such as, receive a $10 gift card when you buy 2 packs of diapers. These promotions will typically follow the sales week (Sunday-Saturday) so you typically will only have that week to save with each specific promotion.
6. CLEARANCE, CLEARANCE, CLEARANCE!
Did I mention clearance? This is my favorite way to shop for most items at Target!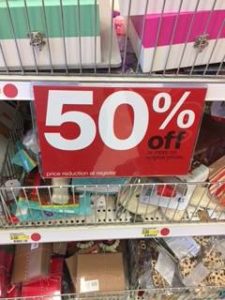 You can find clothes, household products, toys and much more marked all the way to 70% off and sometimes higher than that! One of my favorite activities is grabbing a coffee and walking the aisles of Target to spot clearance within the aisles and the end caps.
I do understand that not everyone has time to scope out every Target in their area, or even one. I want to encourage you to build relationships with peers in your community. Ask friends and family members to keep an eye out when they see items on clearance.
7. Price Match
Target will price match any item on their website or competitor's prices if it is below the price of the item in store. I try to make a habit of checking the major retailer's websites (Walmart, Amazon, etc…) before checking out to ensure that I am getting the lowest price possible.  If you happen to purchase an item and then realize that it is cheaper with one of their competitor's prices, then Target will honor within 14 days.
"We'll match the price if you buy a qualifying item at Target then find the identical item for less at Target.com, select online competitors, or in Target's or competitor's local print ad. Price matches may be requested at time of purchase or Price adjustments within 14 days after purchase."
8. Reusable bag
If you bring your own reusable bag for checkout then Target will take off .5 cents off your total purchase!
9. Target RedCard
If you are a frequent Target customer, I would recommend signing up for their red card. Target offers both a Target RedCard debit card and a Target RedCard credit card. If you sign up for their Debit card it links directly with your own bank account so it is just like using a regular debit card. I personally am not big on credit cards, so when I saw that Target offered debit cards, I said "sign me up"!
Each time you use your Target RedCard you will save 5% off on top of all the other savings that Target offers.
Whew!  I know that was a lot of ways to save, but once you get familiar with how to save at Target you will never pick up another item from Target without checking for a coupon or savings on Cartwheel and become a Target savings master!
Save
Save