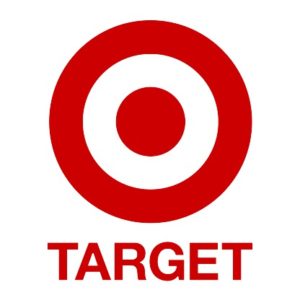 Target is by far one of my favorite stores to shop for EVERYTHING.  I swear it is impossible to walk into target and not come out with a cart full!  Lucky for me, I almost always pair coupons, clearance or crazy sales when I shop at Target. I rarely will spend full price on anything from Target and I always aim to save at least 70 percent or more at Target.
So let's get down to the basics of Target. They have many different coupons and ways to save at Target.
Manufacturer's Coupons. Like most stores, Target accepts coupons from the Sunday paper or printable coupons from your computer.
Target Store Coupons. These can be found at here.  You can only print two coupons per device (computer, phone or tablet).
Target Mobile Text Coupons.
Advertised- Most weekly Target circulars will have a coupon than you can cut and use in store. If you look at the coupon it will normally advertise that you can save for instance, $5 off a $20 specified brand when you text SAVE to TARGET (827438).
Non-advertised- Most weeks there is also unadvertised mobile coupons which you can find listed on signs throughout the store.
Some mobile coupons will be a dollar amount of a specific product such as $1.00 off any Dove item.  Some coupons are department specific such as save $5 off any $25 personal care purchase.
All mobile coupons have a limit of one per transaction. All dollar-off coupons ($1.00 off a specific product) can only be redeemed once.
Cartwheel App. Target has their own savings app available for most smartphones. I love this app so much that I created a separate post about how wonderful it is, but here are the basics.
Cartwheel has both percentages off and manufacture coupons directly from your phone.
Once you load the coupon to your Cartwheel you then have the cashier scan your barcode for your savings to be applied.
Cartwheel percentage coupons can be combined with Target coupons AND manufacture coupons! That means triple the savings!
Want to learn more about Cartwheel?
Gift card promotions. Each week Target will offer a gift card promotion on a number of products. Such as receive a $10 gift card when you buy 2 packs of diapers.
CLEARANCE, CLEARANCE, CLEARANCE! …Did I mention clearance? This is my favorite way to shop for most items at Target!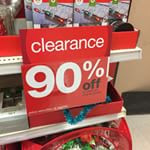 You can find clothes, household products, toys and much more marked all the way to 70% off and sometimes higher than that! One of my favorite activities is grabbing a coffee and walking the aisles of Target to spot clearance within the aisles and the end caps.
I do understand that not everyone has time to scope out every Target in their area, or even one. I want to encourage you to build relationships with peers in your community. Ask friends and family members to keep an eye out when they see items on clearance.
Target red card.
If you are a frequent Target customer, I would recommend signing up for their red card. Target offers both a Target RedCard debit card and a Target RedCard credit card. If you sign up for their Debit card it links directly with your own bank account so it is just like using a regular debit card.  Again, it is literally the same thing as using your debit card. I personally am not big on credit cards, so when I saw that Target offered debit cards, I said "sign me up"!
Each time you use your Target RedCard debit card you will save 5% off on top of all the other savings that Target offers.
Whew!  I know that was a lot of ways to save, but once you get familiar with how to save at Target you will never pick up another item from Target without checking for a coupon or savings on Cartwheel and become a Target savings master!
Target Coupon Policy 101:
No double coupons- All coupons are honored at their face value.
Coupon limits- Target will only accept 4 identical coupons per day, unless the coupon states otherwise.  Some coupons will only allow 2 identical coupons per day.
No overage- If the coupon exceeds the value of the item, the register should automatically adjust down the value of the coupon.
Stacking-  You can stack manufacture coupons with Target's mobile coupons, Cartwheel, Target printable coupons, gift card promotions and RedCard 5% savings! There are plenty of ways to stack for some awesome savings!
Save
Save
Save