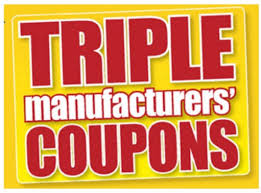 We used to see a lot more of the triple coupon events, but most of the time now Harris Teeter will only do Super Double events.  Harris Teeter recently had a triple event so I figured it was worth mentioning for any future events.
Triples follow all the same policies as the Super Double events, but the Triple event only applies to coupons .99 cents and below.
.25 cent coupon will triple to .75 cents
.50 cent coupon will triple to $1.50
.75 cent coupons will triple to $2.25
How does the sale work?
If this is a week long event, then the sale will begin at 7 a.m. on Wednesday morning.  If you try to scan coupons before 7 a.m. your coupons will not triple as their registers are programed not to double until 7 a.m.
You can only triple 20 coupons per household per day.  All coupons after the 20 limit will only be scanned at face value.  This means that a .75 cent coupon will only be scanned at the .75 cent value and will not triple.
This is a great time to pair any previous rain checks that you have to current coupons to score awesome savings!