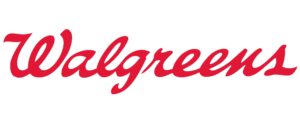 General:
Walgreens does not accept expired coupons.
Walgreens will not give cash back. The coupon will be adjusted to the price of the item.
Competitor coupons shall not be accepted by Walgreens.
The number of manufacturer coupons, including Register Rewards/Savings Rewards manufacturer coupons, shall not exceed the number of items in the transaction. The total value of the coupons shall not exceed the value of the transaction. Sales tax must be paid, if required by state law. This means that if you have 1 item that you have both a manufacturer coupon and a store coupon that you must add 1 additional "filler" item to your transaction for both coupons to be accepted.
All coupons must have a clear and scannable bar code.
Paper coupons will be processed before digital coupons.
Walgreens reserves the right to limit quantities to customers and employees.
Walgreens shall accept manufacturer coupons for items that are on sale.
When items are featured in a buy one get one free promotion, at least one product needs to be purchased. A maximum of one BOGO coupon is permitted per two qualifying items in a BOGO offer.
Walgreens shall not accept "free product" Internet printed coupons.
Register Rewards Coupons
Earning Register Rewards
Register Rewards will only print for in-stock merchandise during the promotional period.
Register Rewards can only be earned for eligible items. No substitutions.
There is a limit of one Register Reward coupon per offer per customer per transaction.
Customers redeeming a Register Rewards against the same offer may not receive another Register Rewards coupon.
 For example, if you receive a "$1.00" register reward on purchasing Degree deodorant and you are doing an additional transaction for the same product (Degree deodorant) that you will not receive another "1.00" register reward if you use your prior "$1.00" register reward that was printed for the same product.
Redeeming Register Rewards
Customers redeeming a Register Reward against the same offer may not receive another Register Reward coupon.
The number of manufacturer coupons, including Register Rewards/Savings Rewards manufacturer coupons, shall not exceed the number of items in the transaction (refer to example above).
The value of the Register Reward shall be forfeited if the item is returned.
Register Rewards cannot be redeemed on the following items below:
Alcoholic beverages
Dairy products
Gift cards/phone cards/prepaid reloadable cards
Health care services, including immunizations
Lottery tickets
Money orders/transfers
Postage stamps
Prescription Savings Club membership fee
Prescriptions
Special event/entertainment tickets or passes
Tobacco products
Transportation passes
Any items prohibited by law