The Sunday paper is where you will find the bulk of your coupons.  The three inserts that distribute coupons are Proctor & Gamble (P&G), Redplum (RP), and SmartSource (SS).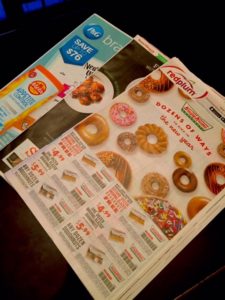 It is important to know that some weeks there may only be (1) insert and another week may have up to (5) inserts.  This is determined by the weekly insert schedule. You can find the entire schedule for the year here.
Just keep in mind that not all regions receive the same coupons.  You may receive a coupon for .50 cents off an item and the neighboring town may receive .75 cents off the same product.
If you haven't had time to build your coupon "stash" do not be discouraged!  If you have a computer, tablet or smart phone and a printer you can have coupons in no time! There are so many places online that you can print coupons. The most common sites to print coupons are coupons.com, smartsource.com and redplum.com.
Many brands offer coupons directly from their website.  Think of brands such as Kelloggs, Betty Crocker, Hefty and more!
Most coupons will only allow you to print each coupon (2) times per device. If you need to print more than (2) coupons then you will have to print from another device such as your tablet.
When you see coupons online that you are interested in and think you will use, then I would suggest you print right away.  Most coupons have a limit and once the limit of the coupon has been printed then the coupon will disappear. Coupons generally expire within a month of printing (that can vary) so you should have plenty of time to use even if you don't need the coupon at that moment.
Many brands and stores will send coupons directly to your home if you sign up for different programs that are offered.  I occasionally will receive coupons for free items from stores like Food Lion.  Harries Teeter is also known for sending out $10 off $50 or more purchases and Target loves to send coupons for many different items!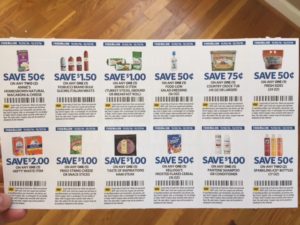 Some store cards will have electronic coupons that you can add directly to your store loyalty card.  Electronic coupons will vary from store to store.  Some stores will allow you to use electronic coupons with manufacturer coupons and some will not.  You can check if your store is listed here, and then review their electronic coupon policy.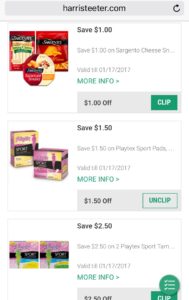 You can find some awesome coupons directly in the store itself!  Many manufacturers will place coupons directly on the product by either "hangtags" or "peelie" coupons. You can also find coupons on "tearpads" and "blinkie" machines.  Both are generally located near the advertised product.
Have you ever been at check out and receive those coupons that print with your receipt that you probably throw away? DON'T! Sometimes those coupons are GOLD!  I have been able to get many free items using those coupons from the "catalina" machines.  Many times, the coupon will print off to redeem for a free item! Always look at those the next time you are shopping and store them in your binder or file for future use.
Hope this helps on beginning your couponing journey!
Save